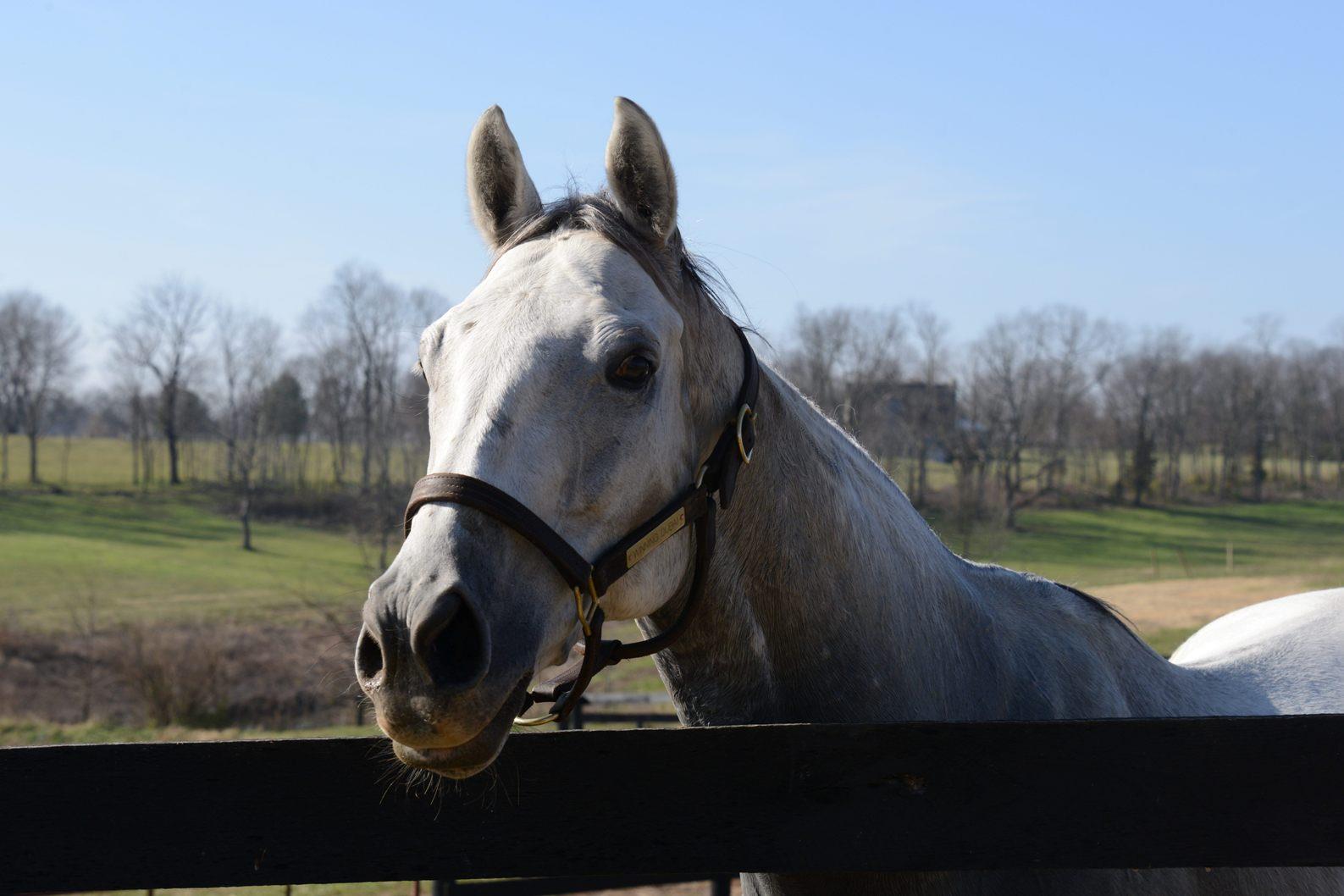 Obituary:
March 30, 2021 – We're saddened by the passing of old campaigner Winning Dubai. He was such a survivor we'd almost come to believe he was indestructible.
A grey/roan son of E Dubai, out of a daughter of Private Account, he was foaled in April 2009 in Kentucky and sold as a youngster to a Puerto Rican racing interest. He ran all of his 96 races at Puerto Rico's Hipódromo Camarero. He won first time out, and true to his name, he made winning a habit. He finished first or second in almost half of his many starts. Working class tracks like the Hipódromo Camarero can be a hard environment for both humans and horses, but Winning Dubai proved more than tough enough. From ages two through seven he raced often as many as 16, and even 19, times a year—and that's year after year. At four, he won 10 times, tying for the record for most wins in all North America in 2012. After his last race in December 2016, his fortitude and spirit had earned such affectionate respect that he continued to live at the Hipódromo Camarero since there was practically nowhere else for a horse on the small, heavily populated island. So it was that when Hurricane Maria devastated Puerto Rico in September 2017, causing thousands of deaths and destroying the race track and its stables, Winning Dubai was caught up in the disaster. He survived the storm and the continuing emergency when the feed, water, vets and vet supplies were difficult to get. Thanks to Caribbean Thoroughbred Aftercare, the Thoroughbred Charities of America, the American Association of Equine Practitioners, the Jockey Club, Brook Ledge, Ocala Breeders' Sales, Bonnie Heath Farm, and others, supplies were shipped in and as many horses as possible were evacuated to Florida. Winning Dubai was among them. He was cared for by Randy and Karen Hickman of Stone Ridge Farm in Ocala, then reached Old Friends in November. He lived at our Georgetown, Kentucky farm for three and a half years. After all that time in the Caribbean, did he know he'd come home? He seemed to, but he'd surmounted so much in his life that he probably would have handled any surroundings with the same unflappable assurance. Winning Dubai had been around the block a few times, and he wanted you to know it. After surviving a grueling race career and a terrible storm, Winning Dubai seemed more than equal to anything fate might throw at him, but even he wasn't immortal. This spring he developed an incurable neurological condition. Due to compromised motor functions, a peaceful and dignified end was the last kindness we could provide the brave warrior. History:
Foaled in Kentucky, Winning Dubai was a talented and hard working race horse from 2011 through 2016 at Hipódromo Camarero in Puerto Rico. In 2012 he turned in 10 wins at that track, tying with two other horses for the most wins that year in North America. His last race was in December 2016, but he was stabled at Camarero in September 2017 when Hurricane Maria caused devastation in Puerto Rico. At Hipódromo Camarero the equine fatalities were only the beginning of the ordeal. The damage disrupted access to the water, feed, vets and vet supplies needed by the survivors. Caribbean Thoroughbred Aftercare worked to provide care on the ground, and among the organizations pitching in to help were Thoroughbred Charities of America, the American Association of Equine Practitioners, The Jockey Club, Brook Ledge, Ocala Breeders' Sales, and Bonnie Heath Farm. Supplies were shipped in, and among the horses evacuated to Florida was Winning Dubai. There he and others came into the care of Randy and Karen Hickman at their Stone Ridge Farm in Ocala. In November Winning Dubai reached Old Friends' Georgetown location. Old Friends thanks Shelley Blodgett and all at Caribbean Thoroughbred Aftercare, and the many donors who made it possible to place survivors, including Winning Dubai, into secure new homes.