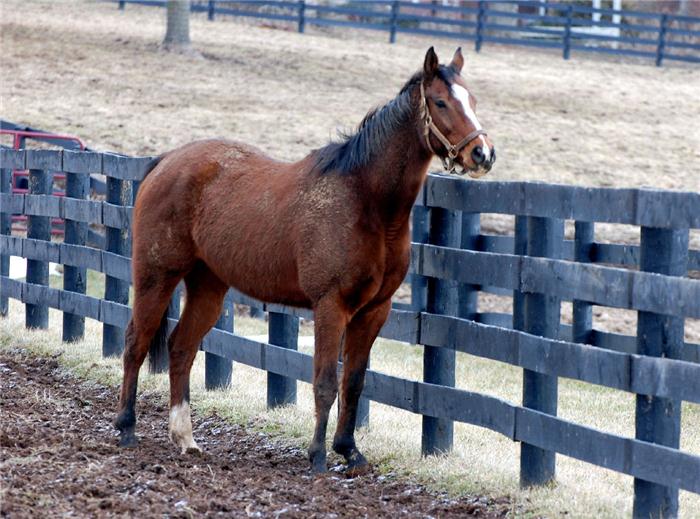 History:
Oklahoma bred Watchem Smokey began as a claimer, but performed so impressively that he became one of the elite of horse racing, a graded stakes winner. Starting in Louisiana with Cecil Borel up (brother of 2-times Derby winning jockey Calvin Borel), Watchem Smokey won his first 6 outings. That grabbed the attention of trainer Bobby Frankel, who acquired him for owner Edmund Gann.
Smokey justified Frankel's assessment. At Hollywood Park under Julie Krone he barreling past Our First Recruit to win the 2003 Vernon O. Underwood Stakes (G3). It was Krone's first California graded stakes win. Now one of the most promising young sprinters on the West Coast, Smokey went to Santa Anita.
There he met with ill luck. An injury sidelined him for 6 months. Bobby Frankel brought him back to win New York, but he did not regain his old form. At the 2005 Keeneland meet Watchem Smokey was claimed out of the Frankel barn. Smokey returned to Louisiana.
Though no longer a graded stakes competitor, he proved he was not done. At 6 he won the John Henry S and Delta Mile S at Evangeline and the Gulf Coast Classic at Delta Downs, but time was catching up with him. Eventually he dropped down to where he had begun, claimer status. In October 2009, now 9 years old, Smokey took 3rd place for a $4,000 tag at Remington Park, but was vanned off with a damaged ligament.
He had been claimed, and new owner Kelly Benjamin was advised to euthanize him. Instead, she contacted Remington Park stakes coordinator Royce Clay and Robin Brookins of the Oklahoma Thoroughbred Retirement Program. After rehabilitation, the deserving Watchem Smokey retired to Old Friends at Cabin Creek, NY, the division named for Bobby Frankel, the trainer who had first believed in him.
In 49 starts, Smokey got 13 wins, 9 seconds and 6 thirds for $512,204.