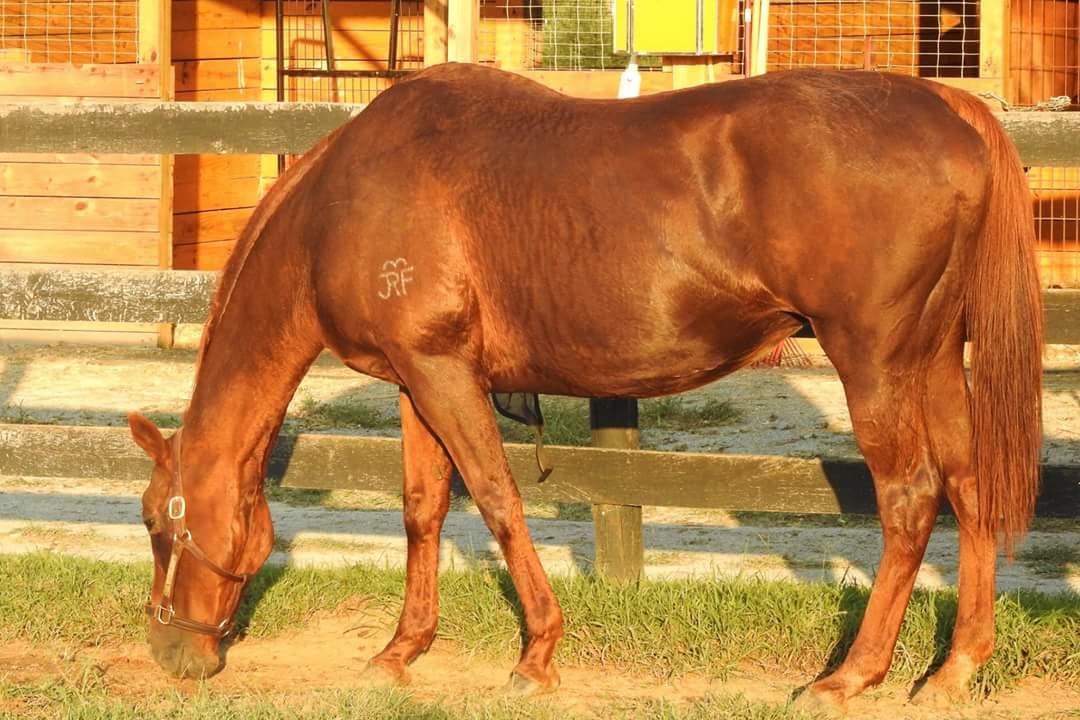 Obituary:
GEORGETOWN, KY – JANUARY 29, 2019 – 1993 Golden Slipper winner Bint Marscay has died. The 28-year-old mare, who resided at Old Friends, the Thoroughbred Retirement Farm in Georgetown, KY, was euthanized Monday evening due to complications of chronic arthritis.
Michael Blowen, founder and president of Old Friends, made the announcement this morning.
Bred and campaigned in Australia, the daughter of Marscay (AUS) out of the Sir Tristram mare Eau D'etoile (NZ), had 10 starts Down Under, winning four of them.
A champion 2-year-old, the outstanding filly won the Kindergarten Stakes at Warwick Farm and the Magic Night Stakes (GR2) at Rosehill before capping her champion status with a win in the Tooheys Golden Slipper Stakes (GR1).
Bint Marscay retired from racing in 1994 with career earnings of $1,034,821.
As a broodmare Bint Marscay foaled three stakes winners, including Bollinger, who won the Coolmore Classic (GR1) and later foaled Kentucky Derby contender Friesan Fire.
Relocated to the U.S. at Vinery, Kentucky, Bint Marscay was plagued by reproductive issues and did not produce a foal after 1999. She was retired to Old Friends in 2013.
"I am saddened to hear of the passing of Bint Marscay," said longtime trainer Richard Freedman via email. "She was one of the greatest 2-year-olds to race in Australia, and she remains a yardstick by which Australian 2-year-olds are still measured today. She gave me, my family, and her racing connections so much joy.
"I thank Old Friends for taking such loving care of her in her retirement, she deserved no less," Freedman added. "Her final years were happy, and her passing was peaceful. RIP old girl, you will be remembered."
"She was a wonderful race mare, a wonderful broodmare, and a wonderful retiree," said Blowen. "We're so thankful to Vinery for donating her to Old Friends and allowing us to care for her in her final years.
"She was deeply loved by everyone here," Blowen continued, "but especially by our dear friend and resident photographer Laura Battles.She was Binty's 'special person,' who doted on her every single day. They had a very special relationship."
"Bint Marscay just stole my heart three years ago," said Battles, "and she took a big chunk of it with her when she left us yesterday."
History:
The mare Bint Marscay adds an international flair to Old Friends's herd. Foaled in Australia in 1990, the daughter of Marscay is out of the New Zealand bred Eau Detoile, who herself is the daughter of Irish sire Sir Tristram.
A beautiful chestnut, Bint Marscay (or just Binty to her friends) was a champion 2-year-old Down Under having broken her maiden in the Warwick Farm Stakes and winning the GR3 Canterbury just a month later., At three she went on to win the Tooheys Golden Slipper Stakes (GR1) and the Magic Night Stakes (GR2). At 4 she was still in top form, capturing the Chirnside Side Stakes (GR2), among others.
Binty made her way to the U.S. to be a broodmare at The Vinery in Lexington. There she had only a few offspring as she was plagued with reproductive issues, but her few babies were, like their Mom, top notch. Her outstanding daughter Bollinger was a GR1 winner and the dam of Louisiana Derby winner and Kentucky Derby contender Friesian Fire.
These days her global status is behind her, as she spends her days with some of our other great race mares.