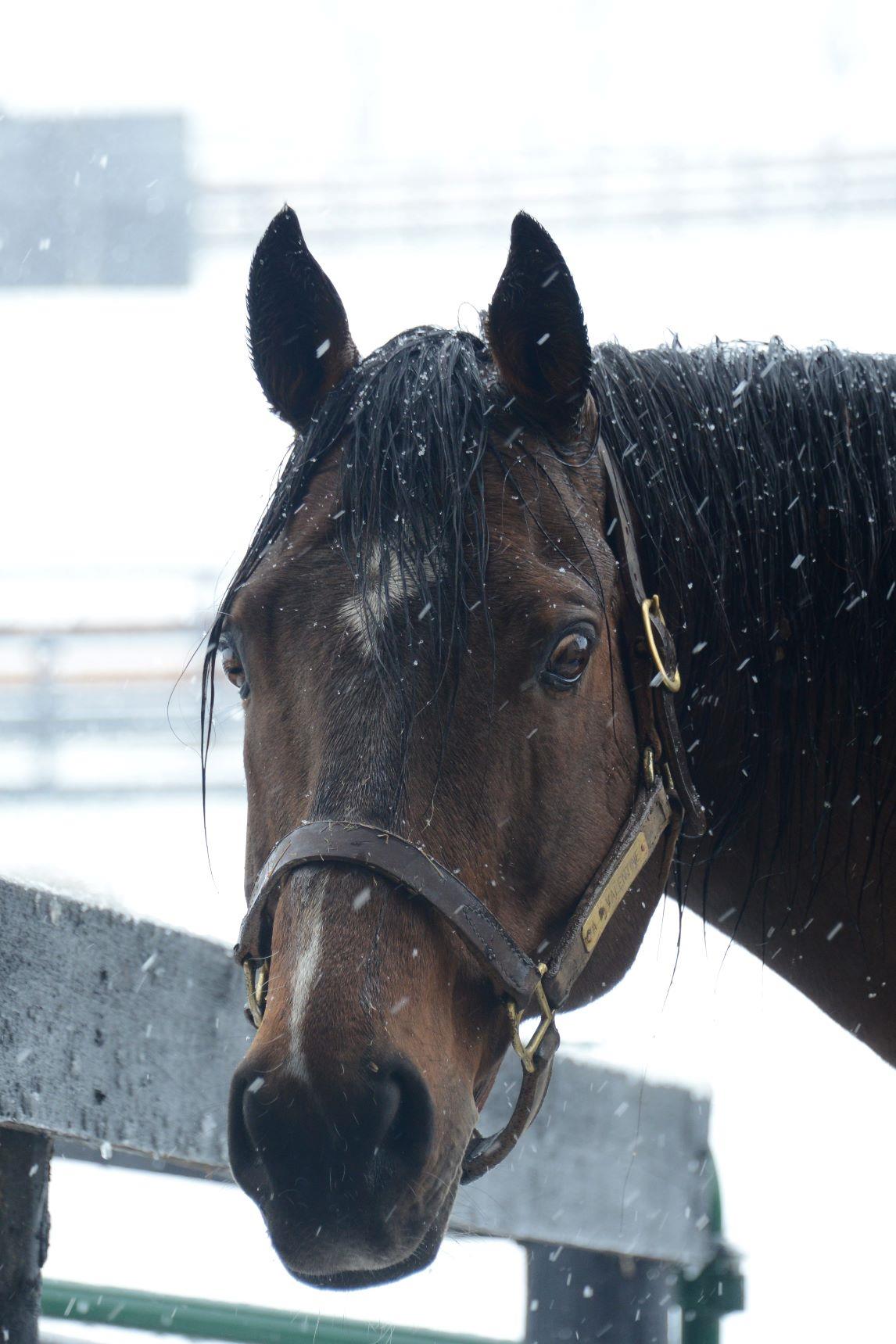 Obituary:
GEORGETOWN, KY – SEPTEMBER 3, 2018 – A P Valentine, a Gr. 1 winner, was euthanized due to complications from colic on September 1 at Park Equine Hospital in Woodford County. The 20-year-old son of A.P. Indy had been pensioned at Old Friends, the Thoroughbred Retirement farm in Georgetown, KY.
Campaigned by Rick Pitino's Ol' Memorial Stable (formerly Celtic Pride Stables) and trainer Nick Zito, A P Valentine (out of the Alydar mare Twenty Eight Carat) was a leading 2-year-old of 2000 having captured that year's Gr. 1 Champagne Stakes.
The following year the colt broke the 1/16 miles track record at an optional claiming race for 3-year-olds and upwards at Hialeah Park before embarking on the Triple Crown trail, where he placed second to Point Given in the 2001 Preakness Stakes.
A P Valentine was retired from racing in 2001 to Ashford/Coolmore Stud but was soon pensioned due to unresolvable fertility problems.
In 2004, A P Valentine was pensioned with veterinarian Dr. William C. Day, a stallion reproductive specialist based in in Brenham, TX.  While preparing to sell his farm, Dr. Day retired the horse to Old Friends earlier this year.
"I loved that horse. He was very kind, very gentle," said Dr. Day. "I have about 30 stallions on the farm, and he was by far the most affectionate. He didn't have an evil bone in his body."
"I first noticed A P  Valentine before his Preakness Stakes because his silks were white with a green shamrock and he raced for Rick Pitino's Celtic Pride Stable," said Old Friends founder and President Michael Blowen. "As a longtime Celtics fan, I rooted for him as if he was Larry Bird. When he came here to Old Friends, it was love at first sight for virtually all of our volunteers and employees."
History:
On February 14, 1998, Alydar's daughter Twenty Eight Carat delivered a special valentine, a handsome bay son by A. P. Indy. He was raced by former University of Kentucky Wildcats coach Rick Pitino's Ol' Memorial Stable (then called Celtic Pride Stable), and it's not hard to guess why they named him A P Valentine. A grandson of Seattle Slew and great-grandson of Secretariat, he raced from the barn of Hall of Fame trainer Nick Zito. At two he won the 2000 Champagne Stakes. At three he was a favorite for the Kentucky Derby, and in both the 2001 Preakness and Belmont Stakes he finished second to Point Given. Eventually retired with $864,170 earnings, he began an enthusiastically heralded breeding career at Ashford Stud in Kentucky, but—ironically for a horse named Valentine—he proved infertile. Reproductive specialist Dr. Phillip McCarthy restored a measure of fertility and at Watercress Farm in Kentucky, then Cedar Creek Farm in Texas, A P Valentine sired 28 registered foals. 21 of them became racehorses, and two, A P Valor and Ifonlyjohnny, earned more than $100,000 apiece. Many thanks to Dr. William Day, veterinarian and owner of Cedar Creek Farm, for A P Valentine's retirement to Old Friends.
Donate to sponsor A P VALENTINE.
Share sheet info click here.
Receive a certificate and 8x10 photo