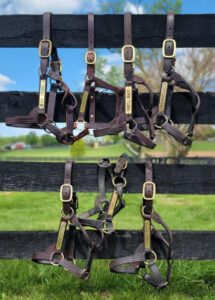 GEORGETOWN, KY. – May 4, 2023 – Old Friends, the Thoroughbred Retirement Facility in Georgetown, KY, will host its 18th Annual Homecoming Event on Sunday, May 7th, beginning at 12 noon.
The event features a live and silent auction of artwork, prints, and racing memorabilia, including several premiere collectible stallion halters.
For those unable to attend the event, absentee bidding for these exceptional halters opens today. On the block are halters worn by the following horses:
* Afleet Alex
* Charismatic
* Constitution
* Da Hoss
* Essential Quality
* Feathered
* Lava Man
* Nashville
* Pioneerof The Nile
* Silver Charm
* Tapit
Each halter is accompanied by a Certificate of Authenticity. Interested buyers unable to attend on Sunday can absentee bid on these items beginning today. The deadline to receive bids is Saturday, May 6th, at 9 p.m. (EST). To bid, email your name, address, and phone number along with your highest bid to: horses@oldfriendsequine.org
Old Friends is grateful to the private collectors who donated these exceptional halters to our auction.
Secretariat Hand Water-Colored Portrait of Secretariat
Photo of this hand water-colored portrait of Secretariat is by the artist, Judith Berkshire Jones
Also up for bid during the Old Friends' 18th Annual Homecoming's live auction will be this hand water-colored portrait of Secretariat by the artist, Judith Berkshire Jones. It is a limited edition, artist proof, with hand coloring over the original limited edition print of her pencil drawing, done from life, of Secretariat. The artist visited the 1973 Triple Crown champion many times during his time at Claiborne Farm, where she gathered sketches and reference material to paint the great stallion numerous times. This one of a kind item of the great champion is 8 x 10-inches, and is in an archival 11 x 14-inch double mat and framed. The outside frame measures 13-1/2-inches x 16-1/2-inches.

The portrait is accompanied on the back by a certificate of authenticity hand signed, dated, and inscribed by the artist.

Old Friends is grateful to the artist, Judith Berkshire Jones, who donated this portrait of Secretariat to our auction.
The deadline to receive bids is Saturday, May 6th, at 9 p.m. (EST).

At the event, someone will be assigned to proxy bid for you starting low and bidding up to your highest number.

The 18th Annual Old Friends Homecoming event will be highlighted by live music, a barbecue buffet, book signings, and farm tours where guests can meet the farm's Kentucky Derby Champion Silver Charm, along with one of the farm's newest retirees, Lava Man.

Tickets are still available and can be reserved online by CLICKING HERE